Vapor Hookahs: The Phoenix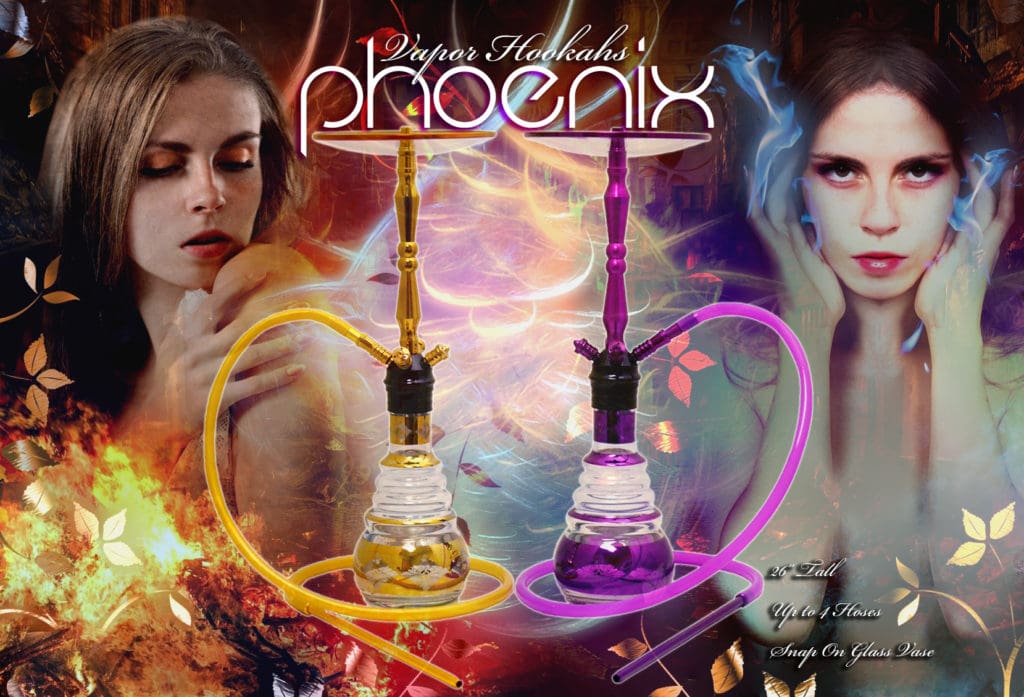 New from Vapor Hookahs: The Phoenix
It's a new year and Vapor Hookahs is starting it off right with a brand new addition to their lineup. Introducing Vapor Hookahs: The Phoenix Hookah. The Phoenix is a 26″ tall modern hookah that is machine made so every hookah is identical in design and quality. The Phoenix shisha pipe comes as a complete hookah set including all the necessary grommets and instructions as well as hookah tongs and an unglazed Egyptian clay bowl; great for ghosting a single flavor profile.
Phoenix Hookah Details
Phoenix hookah pipes are single hose hookahs with multi hose capability that may be converted into a 2 hose, 3 hose, or 4 hose model with the appropriate Extra Large hose stem adapters. It has a medium sized clear glass vase with a rounded and ribbed design that is decorated with colored stripe designs on the base and neck. The vase shape is round and ribbed, tapering up to the thinnest point at the common chambered heart that twists and locks in place.
Hookah Accessories
Inside the colored hose ports there are Pyrex glass ball bearings that will not rust over time and the down stem provided is a very wide gauge for optimal performance and an open draw. The tray is a unique curved glass with colored trim and it screws on tight for a secure fit. The stem is a solid piece that is solid colored with angular lines. Finally, bringing the whole package together, it comes with a silicone hose that has a colored aluminum handle that is completely washable and designed to match the whole setup.
Shop SouthSmoke.com
The Phoenix by Vapor Hookahs is available in a stunning gold or a vibrant purple; either option is a beautiful addition to any collection and will last for years to come with the proper care and maintenance. Take a look for yourself, it's available now at SouthSmoke.com and you can scoop up the entire package for just under $95.