New Trifecta Dark Leaf Tobacco Flavors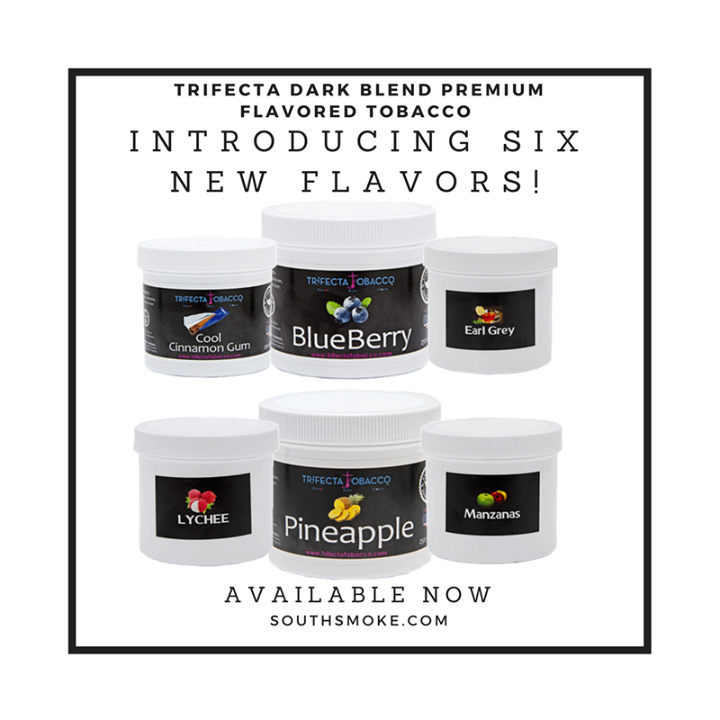 New Trifecta Tobacco Flavors
Trifecta Dark Blend Tobacco has taken the dark leaf shisha market by storm. While they are still a very small craft company, the popularity of their flavored tobacco is of no surprise to us here at SouthSmoke.com. The quality of materials, craftsmanship, and the love they have for what they do shine through in the product like no other.
It is awesome to be able to watch a great product become more and more popular every month with virtually no marketing. We believe this speaks volumes for a company and what they do and is why we are proud to offer our customers Trifecta Dark Leaf Shisha.
Trifecta Tobacco has been working hard at some new flavors that they say have finally perfected. The six new flavors that have been released bring Trifecta's dark blend line to seventeen incredible flavors.
6 New Flavors From Trifecta
Cool Cinnamon Gum is a flavor that is becoming more popular these days and a shisha company would be foolish to not have a great one to offer.
Industry leaders are saying that Trifecta's Blueberry is the best blueberry shisha available. If you're a blueberry fan you may want to give this one a try!
Manzanas is Trifecta's take on double apple. If you know Trifecta, they are always putting their own spin on things so this will be an interesting flavor to pick up and add to your double apple collection. The fact that Trifecta has been producing shisha for this long and is just releasing a double apple speaks volumes about the company. Putting out a quality product has always been priority number one.
Lychee has always been a popular flavor for Nakhla, so Trifecta releasing one right after Nakhla drops theirs from the mizo line is one heck of a brilliant move.
Trifecta's Morning Glory coffee flavor is kind of what put them on the map in the shisha industry because they do it very well, so releasing an Earl Grey flavor seems only natural. This should make a great mixer for all of you enthusiasts out there!
The last new flavor released is Pineapple. Now, pineapple has been a difficult flavor for any company to do well. Haze Tobacco does pineapple the best with their Pineapple Krush, let's see how Trifecta stacks up. Knowing Trifecta, they wouldn't release anything that didn't stack up against the best!
As always, we at SouthSmoke.com make it our mission to bring you the full line of any brand we offer.
Stop by today and try out one of these great new Trifecta flavors and don't forget to tag us in your pics! #SouthSmokeSelfie