New Additions from Vapor Hookahs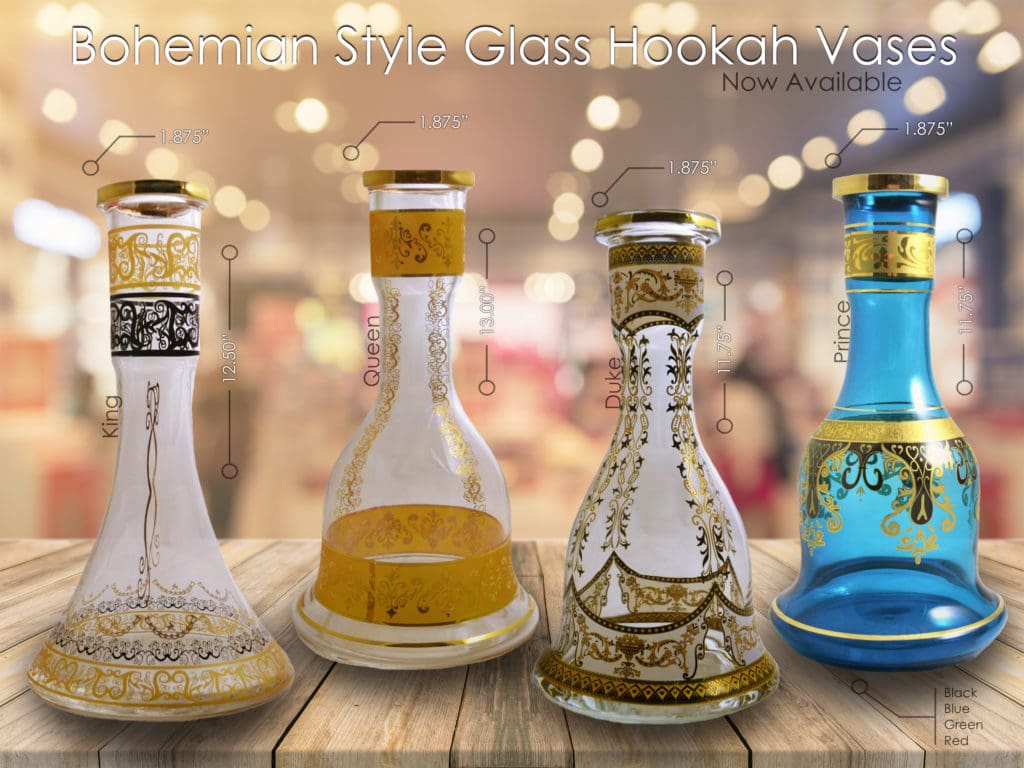 The Timber Wooden Hookah
We have quite a few new and exciting items to share with you! First up is the Timber hookah; the very first edition to our new wooden hookah line. The Timber is a 29" tall single hose hookah that comes as a complete set including hookah tongs, a solid black round glass vase, an unglazed Egyptian bowl, a curved solid black tray design, rubber grommets, and setup instructions. It also comes with a beautifully designed matching silicone hose that is fully washable and fully equipped with a stunning wooden handle. The handle is designed for maximum comfort as you are holding and smoking as well as including a spring that goes on the side that plugs into the hose port and prevents it from kinking. There is no doubt about it, this little beauty is a show stopper.
Bohemian Style Glass Hookah Vases
Next up is the Vapor Hookahs Bohemian Style Glass Hookah Vases. They are ideal for replacing a damaged vase or for providing an alternate vase to enhance the appeal of your Hookah. Vapor Hookahs Glass Hookah Vases are elegantly designed to add style and sophistication to any setup at an affordable price. Vapor Hookahs Glass Vases all have a 1.875" opening diameter so they are guaranteed to fit most Medium and Large Style Hookahs offered in the industry with the right combination of available vase grommets.
The King Vase is a 12.5" tall trumpet style design with an elongated neck. The glass is adorned with black and gold accents that go around the tip and base with vertical curvilinear lines that further accentuate the tapering design of the glass. The other three are all bell shaped designs with a round bottom and a thin neck. The Queen is the tallest at 13" and is adorned with simplistic golden accents where the Duke is about 11.75" tall and decorated with intricate black and gold designs. The Prince is also 11.75" tall and has mostly golden accents with a little black mixed in and is available in black, blue, green, or red to ensure you are able to get the perfect color match for your set up.
Hookah Supplies & More
Unglazed bowls are preferred by Hookah smokers who are looking to enhance their smoking experience by designating one bowl for a one flavor in particular. The Unglazed bowls allows the juices and flavoring to absorb into the clay, ghosting the bowl, and boosting the flavor strength each session. If you want to enhance it even further, couple it with an unwashable leather hose and dedicate it to the same flavor. Just keep in mind, if you mix flavors with either it will not perform the same.
Hookah Starter Vacuum Kit
Last but not least, we have the Hookah Starter Vacuum Kit. Jump start your Hookah smoking sessions by inserting the Hookah Hose into the funnel attachment and allowing the vacuum to take the first few puffs. As soon as the Hookah vase is filled with smoke, you're all set and ready to go so you can experience the real flavor of what you're smoking with your first inhale! This little wonder saves you time and trouble so that you can start enjoying your session as soon as possible. What are you waiting for? Visit SouthSmoke.com today and check out all these fantastic new items.