Getting Beach Ready with Al-Waha Summer Air!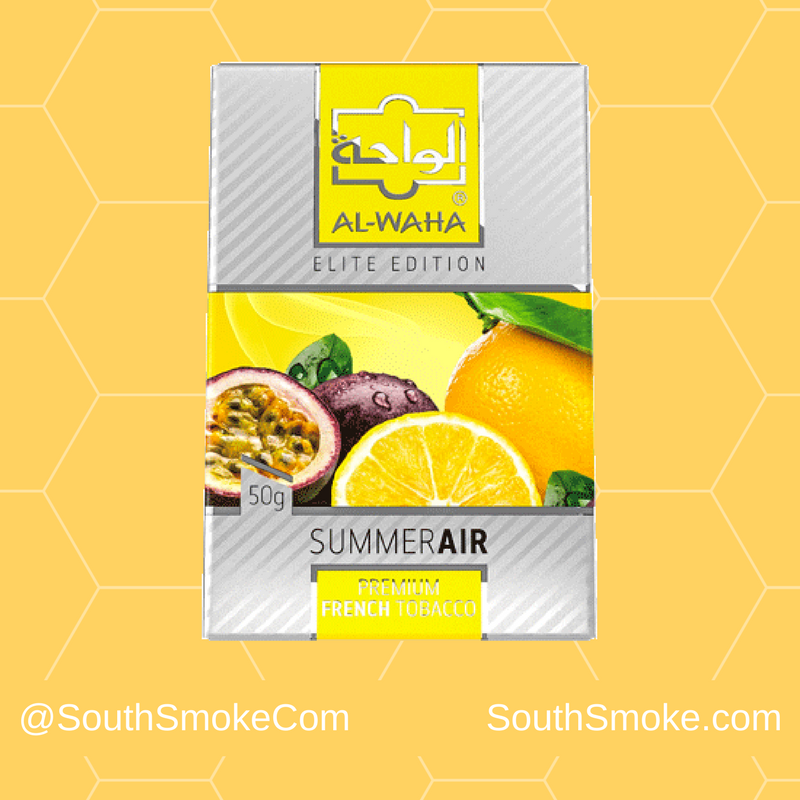 Al-Waha Summer Air Flavor Review
It may not feel like it outside, but we can dream of getting ready for picnic days with the refreshing taste of lemon and passion fruit! The smell alone will leave you wanting more!
The Hookah Set-Up
For this test of the Al-Waha Elite Edition Tobacco: Summer Air flavor, we decided to use our Khalil Mamoon 1001 Nights with an Ice chamber. We, of course, filled the ice chamber to take our session to the next level! We also swapped out the Khalil Mamoon Long Handle Hose for a Mya Freeze hose to get an extra chill factor.
The rest we kept pretty standard with the Egyptian Grommets and a Large Vapor Premium Clay Bowl. The consistency when it comes to the depth and diameter make this bowl an all time favorite here at SouthSmoke.com when using an Egyptian Hookah. You also don't have to worry about the slight imperfections that are commonplace in traditional clay bowls.
Al-Waha Elite Texture
Now, to get the bowl prepped you are going to want to do a nice fluff pack like you would with  Al Fakher. This shisha is nicely cut so there is no need to re-cut the tobacco.
Al-Waha has perfected their proportions so that your shisha is nice and juicy but not drenched in the honey. That's right I said honey! It's used as a substitute for molasses and will still produce those nice thick clouds we all desire when enjoying our Hookah.
To top it off we used the Vapor Pre Punched Foil Roll. We find it easier than using the individual sheets and less time consuming than having to punch holes in regular aluminum foil.
Now to get the party started we are using Charco Flare Charcoal Cubes! They are odorless and tasteless Charcoal Cubes that we are raving about here at SouthSmoke.com! On top of the benefit of not tasting or smelling the coals Charco Flare Charcoal Cubes last two to three times longer than most coals on the market!
Al-Waha Elite Summer Air Flavor Experience
The refreshing taste of lemon is the first taste that you will notice followed by the sweet sensation of the passion fruit. Both wonderful flavors combined with the chilling effect of the ice chamber and the Vapor Freeze Hose will make you wonder why you didn't get a Kilo tub!
If you want some thing refreshing and delicious then make sure to add this shisha to your next SouthSmoke.com Order! No need to wait for summer to enjoy Al-Waha's Summer Air!