Al-Waha Chai Latte is Great for a Rainy Day!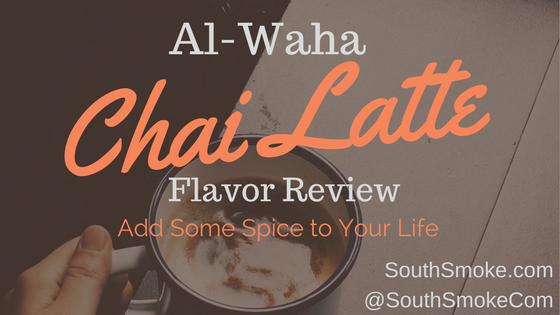 A New Spin On Chai Latte
Spring showers bring may flowers, but Al-Waha brings the Chai Latte! Nothing is more relaxing than watching the rain while enjoying the exquisite taste of a well prepared Chai Latte. Instead of running out to get one you can stock up on Al-Waha: Chai Latte Flavored Shisha Tobbaco or get a convenient sample pack with your next SouthSmoke.com order!
Al-Waha Flavored Tobacco Review – Chai Latte
We will be using a Khalil Mamoon Ashraf Star Single Hose Hookah. We have swapped out the traditional Egyptian Clay Bowl with the Vapor Premium Clay Bowl, but the rest we kept traditional. We prefer the Vapor Premium Clay Bowls because they are more consistent in quality, size, and depth. To keep this session going as long as possible we opted for the Charco Flare Flat Cube Coconut Charcoals. For our foil we are using Vapor Pre Punched Foil.
As always you are going to want to make sure that you mix the shisha well so that the honey is evenly distributed throughout that shisha. Al-Waha is a medium fine cut tobacco so you don't have to cut it when you are getting ready for your session. Al-Waha is quite similar to Al-Fakher when it comes to the way you pack your bowls. For this type of shisha you are going to want to do a nice fluff pack. This is simply just sprinkling the shisha into the bowl with out packing it down. If the shisha is over the rim of the bowl you are going to want to push it down gently without making it too dense. You don't want the foil to touch the top of the shisha because it will scorch the top layer of shisha. Now we are going to use 3 of the flats to get the bowl started and once you are getting nice thick clouds you can take one off. This is a personal preference of course.
The smell of the Chai Latte alone is enticing and the slightly sweet cinnamon flavor will help you relax and enjoy the rainy days to come! The honey in the shisha helps make the smoke smooth which is great for big clouds. This flavor stayed consistent through out the smoking session and the clouds were thick. Don't forget to add Al-Waha Chai Latte to your next SouthSmoke.com order to enjoy the next time you are indoors on a rainy day! It is available in a 50g sample pack as well as a 200g and 1 Kilo Tub for your smoking pleasure!