Al-Waha Hookah Tobacco Is Here!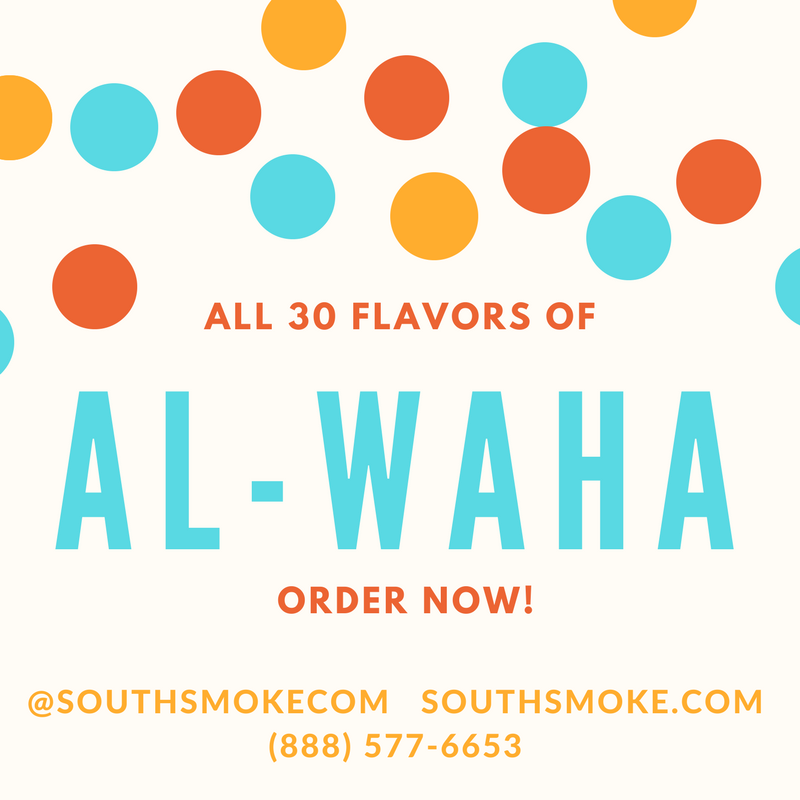 Al-Waha Flavored Hookah Tobacco Has Arrived!
Al-Waha Flavored Tobacco has been a staple in hookah tobacco world wide for decades. They have been perfecting the art of making shisha, in the country of Jordan, longer than any other brand currently for sale in the US market except for Nakhla. It did disappear from the US market for a while but it is back full strength and better than ever in the form of Al-Waha Elite Edition.
What makes Al-Waha shisha unique from all the other brands you have smoked, is that they don't use a molasses base, they use honey. You will find the older generation of seasoned hookah enthusiasts rave about Al-Waha and the quality shisha they provide. Most of the younger generation of smokers in the US probably have never heard of them, but that will soon change.
Al-Waha offers an Al-Fakher like smoking experience but comes in at a better price point so we expect it to flood the hookah community with nothing but joy! SouthSmoke.com is proud to offer Al-Waha in 50g sample packs, 200g jars, and 1 kilo tubs. We are sure that when you pinpoint your favorite flavor out of the 30 offered, you will no doubt be buying kilos at an amazing price.
Check out the unique flavors offered by Al-Waha Elite Edition at SouthSmoke.com:
After Nine (Chocolate Mint)
Arctic Blueberry (Cool Blueberry)
Arctic Cherry (Cool Cherry)
Arctic Melon (Cool Honeydew and Juicy Watermelon Mix)
Arctic Peach (Cool Peach)
Blueberry Banana
Blueberry Guava
Cali Twist (Cherry, Pineapple, Orange Mix)
Chai Latte
Cinnamon Gum
Double Apple
Grape
Gum Mint
Hot N Cold (Cool Menthol Blueberry Mix)
Ice Cream (Neapolitan Style)
Icy Mango Tango
Lemon Mint
Libella Swing (Sweet Orange, Pink Guava, Mint Leaves Mix)
Magic Touch (Mint, Lime, Blueberry Mix)
Mango Lemonade
Melon (Honeydew)
Melon Berry
Mint
One Day (Lime, Mint, Creamy Chocolate)
Orange
Orange Mint
Pan Rasna (Floral, Clove, and Other Indian Spices)
Summer Air (Lemon, Passion Fruit Mix)
Sweet Shock (Watermelon, Passion Fruit Mix)
Watermelon