Vapor Hookahs: The Plasto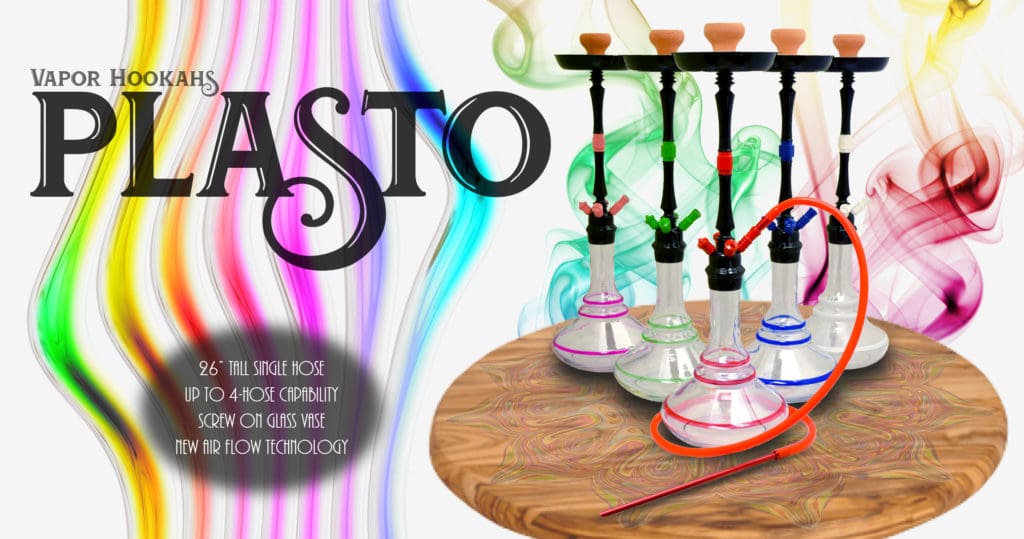 New from Vapor Hookahs: The Plasto Hookah Kit
Earlier this week we brought you Phoenix Hookah by Vapor Hookahs but that wasn't the only brand new design hitting the market this week. Introducing Vapor Hookahs: The Plasto. The Plasto is a 29″ tall modern hookah that is machine made to ensure a consistent design with every purchase. The Plasto shisha pipe comes as a complete hookah set including all the necessary grommets and instructions as well as hookah tongs and, just like the Phoenix, comes with an unglazed Egyptian clay bowl; great for ghosting a single flavor profile.
The Plasto: Modern Hookah Details
Plasto hookah pipes are single hose hookahs with multi hose capability that may be converted into a 2 hose hookahs, 3 hose, or 4 hose model with the appropriate Extra Large hose stem adapters. It has a clear glass vase with minimalist single colored stripe designs. The vase shape is fat on the bottom and tapers up into a slim neck connecting to the threaded common chambered heart. Inside the colored hose ports there are Pyrex glass ball bearings that will not rust over time and the down stem provided is a very wide gauge for optimal performance and an open draw.
Shop Vapor Hookahs & More at SouthSmoke.com
The tray is aluminum, being silver on the inside and black on the outside, with raised walls to prevent any ash or coals from rolling off and damaging your table surface or floor and screws on tight for a secure fit. The stem is slim and solid black with a squared color segment in the middle. All pieces of the stem are segmented and can be taken apart and screwed together to form a much smaller version for maximum portability. It comes with a silicone hose that has a colored aluminum handle that is completely washable and designed to match the whole setup. The Plasto by Vapor Hookahs is available in five colors to ensure a design to suit anyone's. Take a look for yourself, it's available now at SouthSmoke.com and you can scoop up the entire package for less than $90.